La plate-forme collaborative de bricolages scientifiques et pédagogiques
Steam engine
Steam engine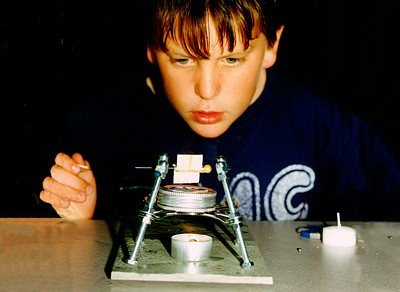 The construction of a small steam engine helps to understand how this technology can tranform heat into a mouvement.
If some water is heated in a closed container and evaporates, a pressure is created inside. This pressure is due to the increase of water volume during its transformation into steam (steam takes about 1'700 times more space than cold water !). If released, this pressure can be used to power a turbine or a piston. With this mechanical movement and a generator it is even possible to produce electricity.

The discovery of the steam engine was the source of the industrial revolution. The fuel used at this time was mainly coal, a non-renewable energy.
Today, it is the same principle which is used in thermal power plants (coal, oil, nuclear) to produce electricity.
A few solar power plants are also based on the same principle. Some large-scale projects like Desertec, propose to install huge solar power plants in the deserts of North-Arica.