La plate-forme collaborative de bricolages scientifiques et pédagogiques
Parabolic solar cooker
Parabolic solar cooker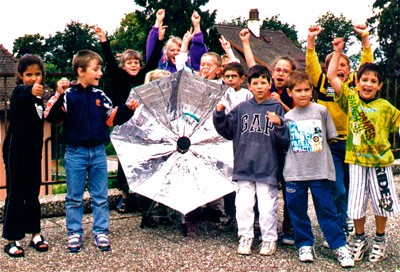 The construction of a parabolic solar cooker helps to understand how it is possible to concentrate the solar rays to reach higher temperatures.

This technique is used in experimental power plants in California and France. These plants use a field of mirrors that concentrate rays to a single point where water is boilded creating pressure in a closed tank. That pressure is used to operate turbines and produce electricity.
Already known from the Greeks, the parabolic miror technique has also been used at the turn of the 20th century by a French inventor named Mouchet, to operate a printing press.