La plate-forme collaborative de bricolages scientifiques et pédagogiques
Solar electric motor
Solar electric motor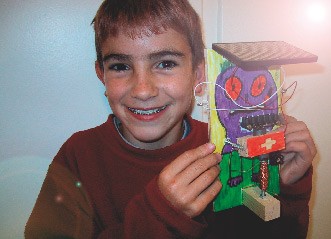 This project helps to understand how an electric motor works (how it is possible to create a movement with electricity). Many electrical appliances use this technique (mixer, cd player, hair dryer, etc.).

By generating electricity from the Sun, this DIY shows that there are alternative energy sources to produce electricity which are renewable and environmentally friendly.

The use of photovoltaic cells to power electric motors is already used for cars or boats prototypes .

The "reed switch" used in this DIYs project replaces the traditional contact brushes as it reduces friction. With less friction, it is possible to run a very roughly made motor powered by the electricity coming from a small solar cell.

05.07.2012 : gdelac


En 2012 à Lutry, des élèves de 8e année ont réalisé le moteur solaire avec le soutien d'Info-Energie (Service de l'énergie du canton de Vaud). Ils ont créé un panneau d'information pour illustrer leur bricolage lors d'une exposition organisée à l'attention des autres élèves du collège ainsi que...

Lire la suite

27.03.2009 : Buttet Jean


 Dans le cadre d'une journée paroissiale sur les "couleurs de l'avenir" nous avons proposé à des jeunes de 10 à 14 ans de construire un "moteur solaire" ou une lampe design économique. Cinq d'entre eux ont choisi le kit moteur solaire gracieusement mis à disposition par info-énergie (merci de tout...

Lire la suite