La plate-forme collaborative de bricolages scientifiques et pédagogiques
Vegetable oil stirling engine
Vegetable oil stirling engine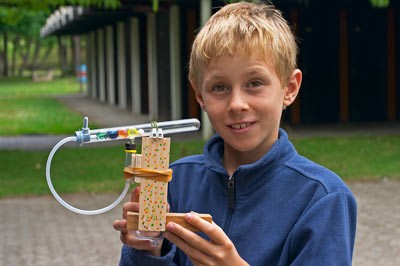 Note

(?)

Difficulté

(?)

Durée

(?)

3h 0 min.
Date
06.05.2013
Auteur
Martin
Traducteur
gros
Coût

(?)

~15 CHF
Langue
français deutsch english
License

(?)

Partager
Building a vegetable oil stirling engine helps to demonstrate different scientific properties:
Expansion and condensation of the air under the influence heat
Principle of operation of a piston
Conversion of thermal energy into motion
Use of a bio-fuel
This DIYs shows a simple prototype of a stirling engine. It operates in a similar way than a steam engine but with air instead of water. This technology is known for a long time but has never really been used on a large scale even though theoretically it has a good energy efficiency.
This DIYs project is also an opportunity to introduce the controversial bio-fuels topic and explain the current limitations of this solution.