Solar electricity storage
Solar electricity storage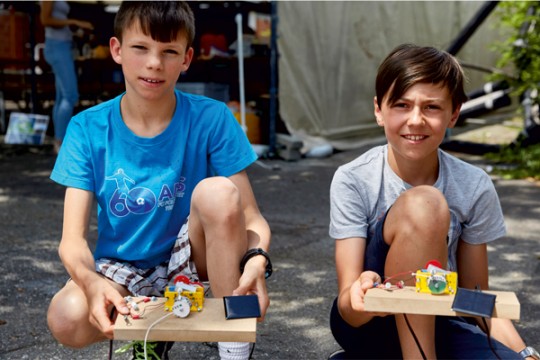 Rating

(?)

Difficulty

(?)

Duration

(?)

2h 0 min.
Date
13.07.2022
Author
Martin
Translator
webmaster
Organization
webenergie
Cost

(?)

~15 CHF
Language
français english
Licence

(?)

Share
Unlike most energy sources, once electricity is produced it is difficult to store it. Until now, the most efficient way to store large amounts of electricity has been to pump water up into mountain dams. Electricity can then be regenerated by sending the water down through pipelines at high speed to operate a turbine coupled to an electric generator.

With the development of new renewable energies, the question of storage has become even more crucial. Indeed, energies such as sun or wind are by nature intermittent and production is often not in phase with consumption needs. It is therefore necessary to develop efficient storage solutions to better match supply and demand; especially in regions without mountains and therefore without 'pumped storage' possibilities.

This project is inspired by an solution developed in Switzerland which stotes electricity based on a simple principle. The Swiss prototype lifts concrete blocks using an electric motor placed on a crane. To restore the energy stored, the blocks are lowered, this time using the electric motor as a generator. The designers claim to be able to 'give back' ~90% of the received electricity, which is even more efficient (return rate) than the 'pumping-turbine process used in hydroelectric plants (~80%).