La plate-forme collaborative de bricolages scientifiques et pédagogiques
Solar popper
Solar popper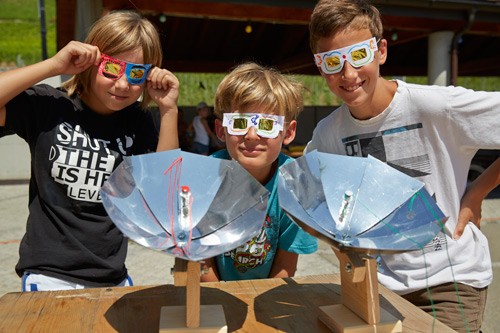 Apart from photovoltaic cells, there is another way to produce electricity with the Sun. This technique uses the Sun to heat water or air in a closed tank. High temperatures are reached by using parabolic mirrors which concentrate the Sun's rays. The heat increases the volume of water or air in the tank creating pressure which is then released to operate a turbine linked to a generator.
This technique uses the same principle found in thermal or nuclear power plants but with the Sun, a clean and renewable energy (instead of coal, petrol or uranium).
This solar popper DIYs project uses the same principles and manages to boil water in a test tube and expel a plug. This demonstrates that it is possible to transform the heat of the Sun into motion.

15.10.2013 : Martin


  Les enfants du passeport-vacancese de Moudon ont réalisé en juillet 2013 de magnifiques saute-bonchons solaires. Heureusement qu'en d'ébut d'activité le soleil était de la partie, ce qui a permis de faire fonctionner avec succès le bricolage de démonstration. Très motivés, les enfants sont re...

Lire la suite