La plate-forme collaborative de bricolages scientifiques et pédagogiques
Solar boat
Solar boat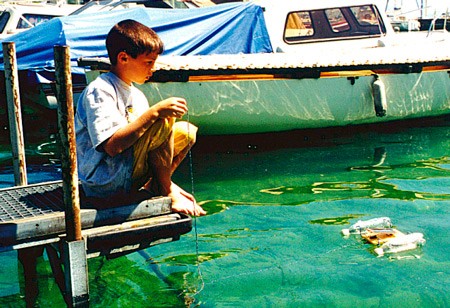 Building a solar boat helps to understand how photovoltaic solar cells can be used to produce electricity.

Toy using solar cells represent often machines that do not exist or which are not logical. It is not uncommon indeed to find toys of helicopters or windmills powered by photovoltaic cells.

Unlike these examples, solar boats doe exist in real life. Even if this type of boat is still uncommon, on the lake of Geneva, the "Aquarel solar boats" can be hired. The large Swiss catamaran PlanetSolar completed in may 2012 a 60'000 km world tour, only with the help of solar energy.
After building this project, why not visit real solar boats and even organize a little solar boat cruise ?

14.07.2014 : Boerger

05.07.2012 : gdelac


En 2012 à Lutry, des élèves de 8e année ont réalisé le bricolage du bateau solaire avec le soutien d'Info-Energie (Service de l'énergie du canton de Vaud). Ils ont créé un panneau d'information pour illustrer leur bricolage lors d'une exposition organisée à l'attention des autres élèves du collèg...

Lire la suite