La plate-forme collaborative de bricolages scientifiques et pédagogiques
Portable solar cooker
Portable solar cooker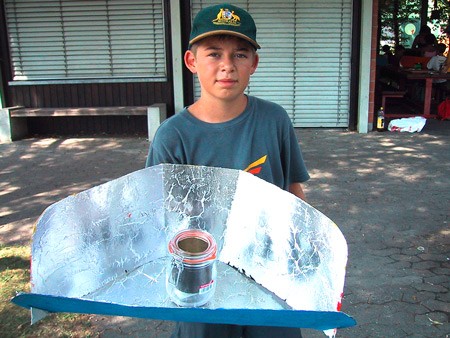 This DIYs project is a good way to discover the power of the Sun, and the use of a renewable energy to cook without polluting or increasing deforestation.
The portable solar cooker uses 3 principles: the greenhouse effect, the concentration of light with reflective panels and the ability of black colour to absorb infrared radiations. The same principles are used in solar thermal collectors.
This model is characterized by its ease of construction and low cost. It is inspired by similar models (cookit) developed for the third world and tested in refugee camps. Our model avoids steam from condensating in the jar as it could reduce the greenhouse effect.

21.10.2009 : Buttet Jean


Les fours solaires, ça fonctionne ! A la suggestion de Marie-Anne Lüthi, enseignante au collège du Chauchy à St-Prex, nous avons consacré quelques heures à faire découvrir aux enfants la différence entre énergies fossiles et énergies renouvelables, en particulier l'énergie solaire. ...

Lire la suite