La plate-forme collaborative de bricolages scientifiques et pédagogiques
Solar house
Solar house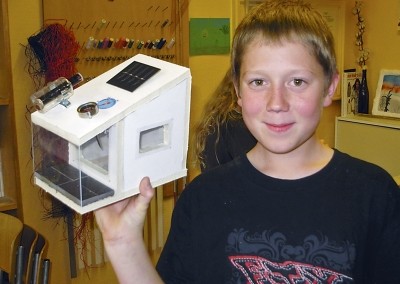 Note

(?)

Difficulté

(?)

Durée

(?)

4h 0 min.
Date
16.05.2013
Auteur
Martin
Traducteur
gros
Coût

(?)

~25 CHF
Langue
français deutsch english
License

(?)

Partager
Building a solar house model helps to understand how it is possible to use the power of the Sun to save energy or even to be completely independent from the energies we normally use in our buildings.

Even if they are still rare, some buildings already use only renewable energies. These 'autonomous buildings' are built in such a way that a central heating is no longer necessary. To achieve this, they are extremely well insultated and air-tight and designed to benefit a maximum from the energy of the Sun.

This DIYs project is a simple illustration of the main principles of this type of building.

29.07.2013 : Martin


Voici quelques photographies de la réalisation des maisons solaires aux passepots-vacances de Rolle.   Source : http://www.ape-vaud.ch/article.php3?id_article=793        

Lire la suite

06.07.2012 : Martin


Reflets des passeports-vacances de Morges où les enfants ont construit la maison solaire.   Source : http://www.pv-morges.ch/photos/index.php?rep=Photos%202008&page=4    

Lire la suite

13.07.2010 : moulin


Notre classe 6/7 de Coteau-Fleuri à Lausanne a réalisé des maisons solaires avec l'aide des kits d'Info-Energie .   Nous avons réalisé une vidéo qui démontre la faisabilité du bricolage. Celle-ci a été reprise comme illustration de l'onglet "Fonctionnement" du mode d'emploi.   ...

Lire la suite